I write about creativity to inspire and motivate you to be true to the creative force that you are.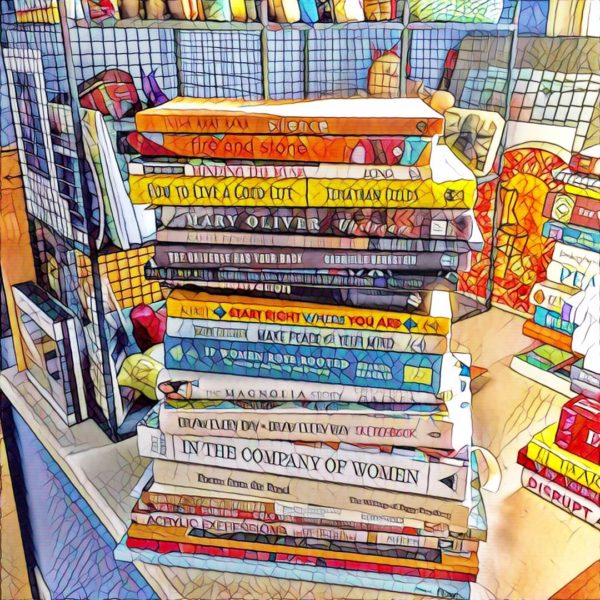 If you're anything like me, your idea of a good time is snuggling up with a good book, especially as an escape from the inevitable holiday hoopla. I always make sure to ask for a book or gift myself one so that I can have something to steal away with for a creatively quiet moment.
With that in mind, my wee gift to you this holiday season is a list of creativity books that have educated, entertained or wholeheartedly engrossed me in 2016.
I don't expect that all of them will resonate with you. Chances are you're not researching a book or keeping up with current thinking in your genre as writers are supposed to do. (Although I'd read these books if neither applied to me right now.) But I do hope you find one that clicks, one that inspires you to take action on your style of creativity.
Warning: there's not a novel among them. I tend to steer clear of those because once I start reading I can't put them down. So when it comes to escaping, I prefer time in my studio.

20 CREATIVITY BOOKS of 2016
In the Company of Women: Inspiration and Advice from over 100 Makers, Artists, and Entrepreneurs
– Interview based book of over 100 women of rising or high achievement in their creative businesses. Inspiring insight, beautiful photography! Coffee table worthy.
The Magnolia Story
– Yep, the couple that brings us Fixer Upper on HGTV. I love the back-stories of people who create success doing what they love. I think of Chip and Joanna as "home artists".
Wabi Sabi Painting with Cold Wax: Adding Body, Texture and Transparency to Your Art
– in preparation for author Serena Barton's Red Thread Retreat workshop in November 2017 (see below).
Creative Strength Training: Prompts, Exercises and Personal Stories for Encouraging Artistic Genius – Jane Dunnewold has created a rich handbook for developing and deepening your creative practice and relationship to your work
. Art quilt based but the exercises and info cross mediums and genres.
Upstream: Selected Essays
– I'm obsessed with Mary Oliver. Her essays give us so much insights into her poetry,
Minding the Muse
– a practical handbook for painters, composers, writers and other creators.
Silence: The Power of Quiet in a World Full of Noise
– by Zen master Thich Nhat Hanh on how to silence the mind, body and spirit.
Productivity for Creative People: How to Get Creative Work Done in an "Always on" World
– One of my mentors, poet and creativity coach, Mark McGuinness, taking a deep dive on a topic near and dear to my heart.
Start Right Where You Are: How Little Changes Can Make a Big Difference for Overwhelmed Procrastinators, Frustrated Overachievers, and Recovering Perfectionists
– Samantha Bennett's valuable take on taking action on your dreams with great exercises and pep talks (hmm, she sounds a lot like me!) (Author video)
Make Peace with Your Mind: How Mindfulness and Compassion Can Free You from Your Inner Critic
– I'll read (and have read) just about anything on overcoming the inner critic. Some wonderful practical practices here. (Author video)
Fire and Stone: Where Do We Come From? What Are We? Where Are We Going? – powerful essays on big questions.
If Women Rose Rooted: A Journey to Authenticity and Belonging
– I admit, the title drew me in. I love the authors exploration of the connection between women and nature. Maybe it's also because it's based on my ancestral homeland.
Draw Every Day, Draw Every Way (Guided Sketchbook): Sketch, Paint, and Doodle Through One Creative Year
– if only I did draw everyday! This book is a gem. And who knows, maybe one day I have a daily drawing practice in addition to my daily writing and mixed media practice.
Patterns 2016
– The catalog from the annual Dinner at Eight art quilt exhibit organized by Jamie Fingal and Leslie Jenison.
Acrylic Expressions: Painting Authentic Themes and Creating Your Visual Vocabulary
– several new ideas and techniques in this book that I found inspiring.
A Permeable Life: Poems & Essays
– You must read her poem The Dare, and Showing Up, and Why We are Here, and … and … and ….
Poems from the Pond
– 107 Years of Words and Wisdom from Peggy Freydberg. She died at age 107 weeks before this book was published. Something every wisdom-seeker will enjoy.
How to Live a Good Life: Soulful Stories, Surprising Science, and Practical Wisdom
– it's all about filling your buckets now vs having a bucket list.

The Universe Has Your Back: Transform Fear to Faith
– I've known that the universe has my back now for some time so I love to read how others come to that awareness.
Unearthing Your Passion & Purpose To Find Explosive Happiness (Make It Your Bitch: The Ultimate Guide To Owning Life) (Volume 1)
– Tracy Porter's, sometimes irreverent but always a spot-on, take on creative living.
Bonus: My Three Favorite Magazines – all ad-free!

Taproot Magazine – the magazine for makers, doers and dreams (that's you, right?)
Womankind magazine – treat yourself to this quarterly work of art, writing and creativity
Flow Magazine Issue 14 (2016)
– as the masthead says, Celebrating creativity, Imperfection and Life's Little Pleasures. Neatherlands based but available in several languages worldwide.