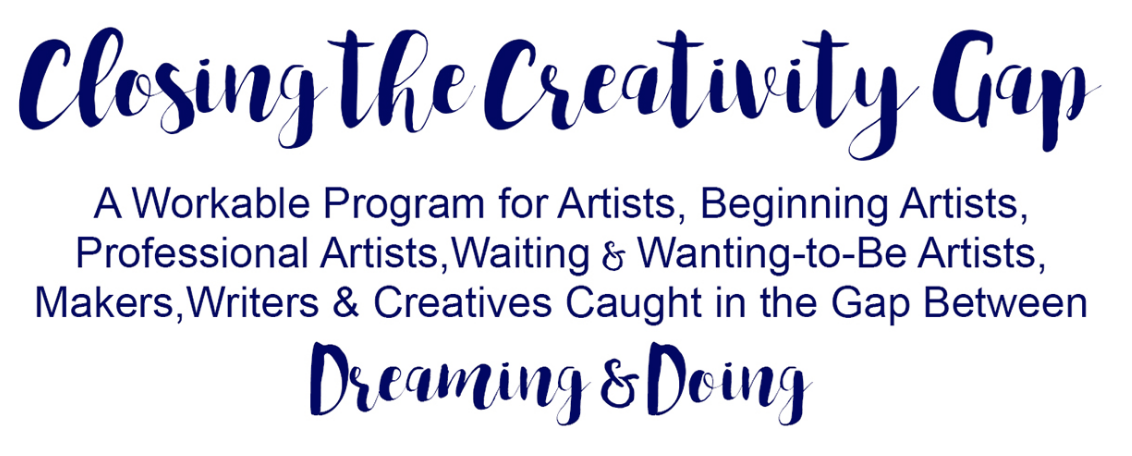 This Closing the Creativity Gap Program is the result of what, up until now, has been my lifelong search for the answer to the question, "What's really keeping me from making art?"
It's Time To Take Your Creativity Into Your Own Hands
Overcome The Barriers That Keep You From Your Artistic Life with the Closing the Creativity Gap Program
Registration opens for the next session on January 15, 2018. 
Sign up NOW for advance notice and priority registration.
Why is it so hard to make time for creativity? I have spent my life searching for the answer to this question.  
From an early age I had a creative desire so strong and persistent, yet I wasn't acting on it. Creativity experts would have chalked it up to fear and resistance. A little voice inside that I learned to recognize as my intuition, my inner knowing, knew there also had to be something else keeping me from my creative dreams. I threw myself into studying the creative process, art, artists, art history – you name it. Theoretically, I knew how to ease and appease this very real, very persistent creative yearning, yet, I was still immobile. I felt powerless. 
Then, I came to understand the problem: Creativity is a natural process but it doesn't always come naturally. And that realization changed everything. 
Now that I have the answer, I want to share it with you.
WHAT IS CLOSING the CREATIVITY GAP PROGRAM?
Closing the Creativity Gap is a revolutionary new concept in understanding and mastering the creative process. It's not just a collection of abstract ideas to ponder. Closing the Creativity Gap is an easy-to-understand and accessible set of life-changing actions that, when put into practice, are guaranteed to increase your creativity, confidence, and overcome the barriers that keep you from your art.
Closing the Creativity Gap Program (CCGP) is a one-of-a-kind experience for creatives that shows you how to:
Identify your personal and unique blocks & challenges.
Create bridges & solutions that lead to making more art – consistently.
Understand and draw on your personal talents and strengths.
Develop confidence and balance in yourself, your life, your art and your creative practice.
You know you are not alone in these gaps, right?
Even the most visible, successful and happy-go-lucky artists slip and tip into some of these gaps. It's human nature. As odd and contrary as it sounds, some of these gaps are innate traps, human survival mechanisms. Unfortunately, when it comes to your right-here right-now survival, they are terribly outdated and generally unnecessary. And oh, they are strong. But…
You can be stronger. I'll show you how.
I created the Closing the Creativity Gap Program for you, the one who longs to discover, uncover, recover, expose and experience her unique creative ability, unencumbered by the roadblocks daily life can throw in your way.
The Closing the Creativity Gap Program is for you if:
Your creative dreams are stuffed deep down inside on some interior Layaway plan waiting for that elusive someday
...someday when the time, space, mood or inspiration is right? 
...someday when you have some spare time? 
...someday when nobody needs or questions you? 
You spend time actively consuming the fruits of other people's creativity yet you're starving from a lack of your own. 
You create regularly but want to increase your time spent on creating and improve your results. 
You want more creativity in your life, and you're just not sure how to make that happen.
Maybe it is best explained by Linda Wheeler, in this email she sent to me:
"What is wrong with me? Why can't I find my calling? Why do I only get a vague feeling of something elusive, something I can't put into words. That feeling I can't describe still persists in the pit of my stomach. And so I continue to search. 
I toy with the idea of being a writer and an artist, then scoff at myself. The child whose art teacher laughed at her efforts – who am I to be an artist? I buy books to teach me art that sit unused, mocking me. I spend hours at the screen, admiring the work of others thinking "if only I had the talent." And that feeling in my stomach grows and I feel I must be broken, ill, not like everyone else. If I could only discover what that feeling is, put it into words, perhaps I'll know what I'm supposed to do. So I search more. 
That hole, that feeling that defies words, is the yearning to create. It eats away at me, and grows as I look outside of myself for answers. My endless searching causing the hole to grow, leading to yet more searching, in a vicious cycle of inaction."
Like Linda, I knew both the meaning and feeling of this yearning all too well. Maybe you do, too?
So why doesn't yearning lead to doing, to making? There's plenty of research, articles, books in print and experts who believe that it is all based on fear and fear's annoying cousins, resistance and procrastination. 
That's true, but I knew there was more, so much more, getting in my way. I had six children, a full-time job, no space to call my own and a schedule that would fill a 36-hour day and a 10-day week. Sounds obvious why I wasn't taking any action on my creative yearning, right? I felt it just wasn't my time, it wasn't meant to be. I didn't deserve, couldn't expect, wouldn't have a creative life because I was living another, different life that I had chosen and created instead. 
I thought it was all my fault that I wasn't making any art. Because, after all, if I really wanted to, I would – isn't that what they say? So I blamed myself. I was too lazy, too disorganized, too undeserving, and too inefficient with my time. Pile feelings of guilt, self-denial, and selfishness on top of that, and it's amazing I got up in the morning. 
But passion burns long and deep. For years I went to sleep thinking that maybe tomorrow is the day I get to make art. Maybe I'll have the time tomorrow. If desire and determination could move mountains, I could have rearranged the world. 
What I needed to do was rearrange my thinking.
I was waiting for something to happen.
It turns out I needed to make it happen.
Some of the things I will be sharing with you:
What almost 100 years of creative process study has overlooked 
21 GAPS hidden within the creative process (and money isn't one of them) 
How to increase your Creatability Quotient 
Common misconceptions about the creative process 
How to recognize and avoid the habits and tendencies that keep you from your art 
21 actions that lead to making bad art
"Lesley, this has been the best course I've ever taken because it's so rich with inspiration, insight and practicality. When I was telling a close friend of mind about all the soul-searching I'd been going through with CCGP, she mentioned something her therapist had said to her: "The deep work is where the magic is." This whole course has been a form of magic for me, and it continues. "
Susan Williamson
In Closing the Creativity Gap you will not only find out why your creative efforts do not succeed, but you will discover how to change your behavior, gain control over your circumstances and situation and move into a life that allows for, supports and sustains your innate creativity. The beauty of this is that living a creatively fulfilled life has a blossoming effect that trickles down into all aspects of your life and those in it.
Now let me ask you this – do you choose to love yourself? Do you choose to take care of yourself and be happy so you can continue to care for and give to others? Do you feel that art is necessary to your well-being? I'm pretty sure your answer to all three questions is YES. So what's stopping you?

Registration opens for the next session on January 15, 2018. 
Sign up HERE for advance notice and priority registration.
Closing the Creativity Gap Program includes:
6 Modules delivered over a 7 week period to allow for time to incorporate what you're learning.
Videos
Discussion
Inspiration
Motivation
Connection & support from like-minded women
Weekly Facebook Live Check-ins
3 LIVE Deep Dive Q&A Calls via the easy-to-use Zoom platform
HOW DOES THE CCGP WORK?
CCGP is released in scheduled modules containing easy-to-follow lessons which include videos, worksheets, deep dive questions, resource lists, and fun bits & pieces for inspiration & motivation. Everything is housed in the private online Ruzuku classroom platform website. Students can view the videos, the content, connect with others, and compare notes with classmates, 24/7, come-as-you-are from any device. 
CCGP also includes interactive components: weekly Facebook Live events in the private Creativity Gap FB group. This is your opportunity to have Lesley answer your questions and offer timely strategic advice to ensure that you stay on track, take consistent action, move forward and receive the highest return and rewards for your investment of time and money. They will be scheduled in advance at a variety of days and times so that you can attend. And if you cannot be there live, you can send your question in advance and view the recorded video at your convenience. 
 All videos and worksheets are downloadable and yours forever.
WHAT'S UNIQUE ABOUT THIS COURSE?
You're frustrated with the big and vague promises, the big magic, bird by bird, just do it advice. You're ready for workable solutions you can apply right at the start and a guide to get you, not just in the studio, but making time for making art and creating a creative practice that fits into your life.
Closing the Creativity Gap meets you right where you are. This life you are living is a good enough place to start, in fact, it is exactly where you need to start from. If you wait until you have all your ducks in a row, a lot of extra time, a creative space to call your own, and the freedom and support to make all the art your heart desires, you'll miss the opportunity to create a life where that actually happens. And let's be honest – if you were really able to get all that under control on your own, to handle all of the things stopping you, keeping you from your art, you would have done that by now, right?
CCGP goes deep and specific versus broad, one size fits all.
CCGP lays out a well-designed journey for you over the course of eight weeks with a knowledgeable, patient supportive and intuitive guide who has mapped, analyzed and climbed out of the gaps, establishing and smoothing the way for your journey.
CCGP is innovative because it blends 1) a new approach and understanding of the creative process unique to womens' lives, 2) proven workable solutions for re-defining and overcoming creative gaps, blocks and stops, and 3) accountability, time and support towards putting the program into practice.
Show up. Follow the program. Work your plan. And the plan will work for you.

But what if it doesn't Lesley?
I've spent 30+ years working on this program. First personally, then informally through mentoring, and formally with private coaching clients. This isn't something I've rushed into as a money-making venture. It is something that I am compelled to share with you because I want for you what you want for yourself, a happy, fulfilling, sustaining creative practice that fits into the life you live. I know for a fact that if you work the program, the program will work for you. 
I KNOW it works because I have created just such a life by using this information, these practices and created solutions to overcome 90% of the issues that you may face. 
However, if you give it a try--and that means you do the work by taking action and applying the strategies and exercises outlined in the program during the first 30 days after the start date of February 5, 2018--and do not see any benefits, I will refund your payment. I've made a promise to you that it will work, but you have to promise me that you've given it your best effort and a chance to see it is indeed workable and helpful for you. 
You have nothing to lose--and your whole creative, fulfilling life to gain. Don't put off your creative dreams any longer. 
Here's What Others Have to Say About Working with Me
"Fantastic format! Loved it all. I am trying, but honestly can't think of a thing [to improve the experience]. EVERY THING (and more) was included. I will say that you, Lesley, were the magic that made it all come together. Your glowing presence made it all make sense and go deep. I felt like I was in a safe and loving place. I appreciate you and this gift you have given. Likely one of the best thing I've ever done for myself."
Dequa Smith
"Even when you think you know what you ought to do some how actually stepping out for yourself is difficult. 
Not everyone has the same goals with their creativity. Some people want to be published, some want to just draw a horse that looks like a horse and not a llama.  Others are silencing a parent, teacher or erstwhile friend that quashed their talent and they just want to experience joy in creating again.
I would proffer that one of the wonderful things Lesley does with all of her programs, classes, newsletters and retreats is to unleash not just the potential in people but their own suppressed knowledge, talent and ambition. Try it, start small, go big, go wild. Don't let that fact that you aren't YET ready to begin stop you. "
"This has been an amazing opportunity for self awareness. So much of what you covered is not just about the creativity gaps, but  life gaps. Thank you for opening up my eyes, ears, mind and heart. The one thing I am sure of, is that I will be taking away gratitude for you, Lesley, and all the love and learning this course brought to my life."
Lorna Schreck
"A happy circumstance landed some money in my hand when I heard about ASAP, I knew I had to use this "found" cash to be part of Lesley's class. I've done a lot of prior research into this topic. Lesley's way of teaching really focuses on the inward discovery process, not just a list of tools and techniques. Final word is that it was money well spent. I'm seeing the rewards already."
Nanette Zeller | www.nanettesewz.com
FREQUENTLY ASKED QUESTIONS
"What is the course schedule?"
The classroom is available for you when you sign up for CCGP. Use this opportunity to familiarize yourself and get comfortable with the Ruzuku, introduce yourself and meet the other students. The CCGP program begins on February 5, 2018 with a new module or "breather" week available for you each Monday for the following 8 weeks. You will receive an email notice as each module is available.
"How exactly will the content be delivered and what will it include?"
Each Monday you'll get an email from the Ruzuku learning platform. When you log in to the dashboard, you'll see the material for that week's lesson. There will be a mix of video, audio, text, inspiration and motivation. It will be available to you to download and can be watched, listen or read on all devices, whenever and wherever it's convenient for you. And it's yours to keep forever! 
You'll also have access to a PRIVATE Facebook group, the weekly Facebook LIVE check-in meetings and three Q&A group meetings via Zoom. 
"I read your "money back guarantee policy." What do you mean that I have to show PROOF I've done the work in order to get my money back?"
It won't always be easy and that's when you may decide to bail. LIFE HAPPENS, I know that, yet this is the program that will show you how to handle the curveballs that life throws at your creative life, and because the two are intertwined, your all day, everyday life, too. That's why this program is a forever access program. Life and circumstances change and this is your tool to handle that. It won't be easy, but as my mother always told me, anything worth having is worth working for. If life does get in the way in the first 30 days, I hope you choose not to quit. This program is here for you with lifetime access. The time will be right soon enough. 
If you do request a refund, there will be forms to complete and I'll ask you to show your worksheets because we both deserve that kind of accountability when it comes to our most important work. 
"How much time do I need to allot to this each week?"
This depends completely on your Creativity Gap situation. There are 21 possible Gaps, and you may fall into a few, so your time investment will vary. Time spent on the individual lessons may take only take 45 – 90 minutes each week. The time to implement what you are learning and the homework will depend on your unique situation.  
"What are the dates and times of the live calls and Facebook check-ins?"
The live Zoom meetings will take place on February 15, March 7 and March 27, 2018 at 7 PM EST, 4 PM Pacific). If you cannot make the scheduled call, rest assured that all calls will be recorded and available for you within 24 hours. 
 "Who is this class for?"
This class is for anyone who wants to make a positive change in their relationship to their creative practice. (If you don't have one, this will be the perfect place to create one that works for you within the life you are currently living.) This program is for you if you yearn to find a balance between your daily obligations and responsibilities and your creative desires. This program is especially for you if you don't think you have time for this right now. 
"Who is this program not a good fit for?" 
This class is not a good fit for anyone who does not want to change their current relationship with their creative self. It is not recommended for anyone who prefers ideas to action. If you like to acquire knowledge for knowledge's sake, but never put it into practice, then this program is not a good fit for you. It is an action-based program and your results are directly based on the actions you take. This program is not a good fit if you believe your creative life situation is too unique and out of your control for any positive changes to happen. 
"The value of a creativity coach for me was to have what Julia Cameron calls a "believing mirror". Lesley Riley was that believing mirror for me during a season where I was too close to my work to see where I was going. Lesley was invaluable to me because her objective insight, her warm encouragement and her down to earth wisdom helped me gain clarity about my strengths, my weaknesses and about where I wanted to go with my work. As a result, I eventually gained clarity and direction. I allowed myself to stop playing small and to enjoy the things I enjoyed. I am happy to report that I just signed my first exclusive licensing contract with Windham Fabrics to develop a fabric collection! "
Jan Avellana | www.Janavellana.com
"Working with Lesley was a joy! Our conversations helped me get my footing as I moved forward into my career as an artist. She listened to the goals I had set for myself and worked with me to reach them offering insights and practical suggestions. Mind you, she didn't always say what I wanted to hear but she always said what I needed to hear!"
Carolyn Dube | www.acolorfuljourney.com
As an added bonus, you will received unlimited, lifetime access to Compose+Yourself, a 10 module, personal approach to the art & study of artistic composition. (a $79 value) 

Compose+Yourself starts with the idea that to arrive at good composition, you have to put yourself in the picture first. (Not literally of course!) Throughout the course the concepts, framework and tools of composition are taught with a focus on how you see the world. The emphasis is on putting your vision, your feelings, your thoughts and message into your work. It will cover, in depth, two of the most common Creativity Gaps – confidence and how-to. Compose+Yourself will be available to you on March 12, 2018 in Module 6 and forever after CCGP.  
"Lesley's Artist Success Action Program is spot on. I did it a year ago and it still takes my breath away. I never thought of it as coaching before, but that is precisely what it was. Every last cent was worth it in my case and I was already quite motivated. It would be very useful for anyone who is questioning their own ability."
Valerie Fjellstrom | www.saatchiart.com/account/profile/510593