We celebrated 46 years of marriage recently – WOW. It really was love at first sight. We were madly in love soulmates. When I got married at 18, many were skeptical that it would last. But those with their doubts really didn't know me. I have a knack for making things work. We're still madly in love. But there's so much more to the story. Like how my other lover saved my marriage!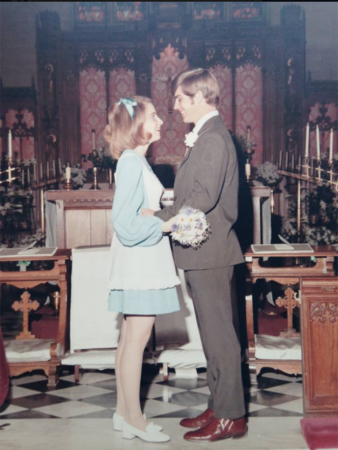 Sure we had our ups and downs, hit a few snags, especially in the beginning. I never realized, at that young age, that a marriage was something you had to continually CREATE. It definitely didn't turn out the way I thought it would. I was pretty unhappy for several years.
I had set aside my creativity in 1979 after baby #2. It reared it's pretty little head again in 1989, after baby #5. I didn't understand why, when I had everything I thought I ever wanted – the husband, the home, the 5 healthy, wonderful children. But I still had a deep, unrelenting feeling that something was missing.
And that is when I fell in love with my creative self. I had set her aside, thinking I didn't have time, the space, the energy or the wherewithal to indulge my "guilty" pleasure. The idea of taking time for myself felt like I would be cheating on my husband and my family. Art was my other lover. I felt guilty for wanting it.
However, I believe that art saved our marriage. Making room for my creativity to have a place in our marriage, to be my other lover, filled the empty hole in my (he)art, my soul, that all the other wonderful elements of my life could not.
It was hard work to fit it all in, but I did it and we are all happier for it. I modeled for my sons and daughters that mothers are not just there for them, that they have a life, too. It really is true what they say – "If momma ain't happy, then nobody's happy."
We worked hard to create something that turned out better than we ever imagined. We turned lemons into lemonade, used painful moments to learn new things about ourselves and our relationship, and learned how to make space for each others interests, passion and dreams to grow for 46 years and counting.
How did I learn how to do this? Well, it took years of study and dissection of the creative process and the obstacles life throws between us and our art. The result of all that research and learning has been the happy outcome of my personal life, that I related above. AND the creation of my upcoming class, Closing the Creativity Gap.
Do you want or need art to rescue you, too? If so, then I invite you to look at my Closing the Creativity Gap Program.
Here's a link to the class page where you can get all the details and register – Closing the Creativity Gap Program. You may also enjoy the information in the video I did LIVE on Facebook last week: 3 Hidden Things That Can Keep Your from Your Art.
Registration for the Closing the Creativity Gap Program ends May 5th, 2017. Let me know if you have any questions. You can write to me at: Lesley @ LesleyRiley dot com.
Whether you join us in the class or not, I hope you honor the power of art to create happiness for you.