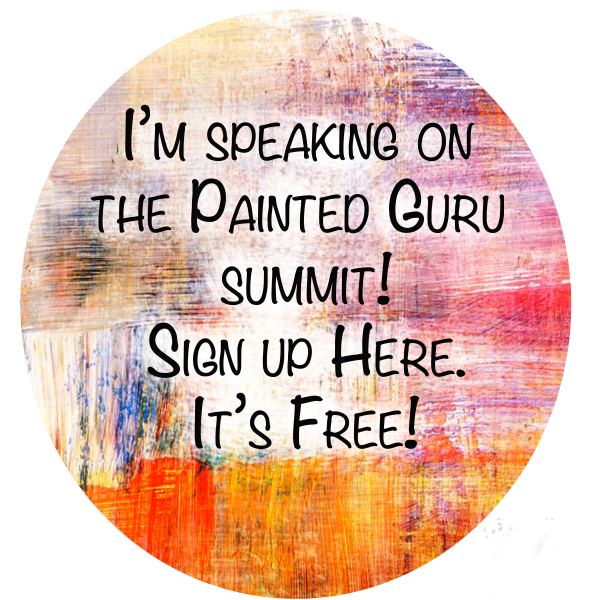 I've got two great things to share with you today:
#1 Sign up for the FREE online summit: The Painted Guru…Discover How Art Can Heal the Heart, Inspire the Soul and Soothe the Mind
I'm one of the 21 speakers and will be sharing some valuable insight and awareness. In addition to me, 
You'll hear stories that will speak to where you are and point to where you're going as an artist.
You'll learn you're not alone in the ups and down of the creative life and will discover the benefits of making bad art and the secrets of passing through the rough patches.
Plus –  there will be lots of goodies and giveaways throughout the 21 days as well. It begins June 11 with daily emails to give you the link to the speaker of the day. And there will be replays so don't miss out just because you've got other plans. Did I say it was free? Sign up HERE.
#2 Gina Rossi Armfield's New Book No Excuses Watercolor – Painting techniques for Sketching and Journaling is out and she is giving them away!
I'm a big fan of Gina's and am lucky to call her a friend. She's the one who convinced me to dive into watercolors a couple of years ago. I was even a contributor to her first book, No Excuses Art Journaling. There really are no excuses, ya know.
WATERCOLOR! Most people love the look of watercolor but are so fearful to give it a try because it is like herding cats! Gina's approach to watercolor can be almost Zen like once you learn to give in to its beauty and let it do its own thing. Watercolor does have a mind of its own so the key is to let go of the tight grip of control and just go with it! In many ways it is just like life; the more you push the harder it is and when you allow yourself to move forward with trust things seem to fall into place. That I know for sure.
So if you have always wanted to learn the art of watercolor this is a great way to dive in and get started in an easy and fun approach.
Make sure to hop on over to her blog right now and ENTER TO WIN before it's too late.