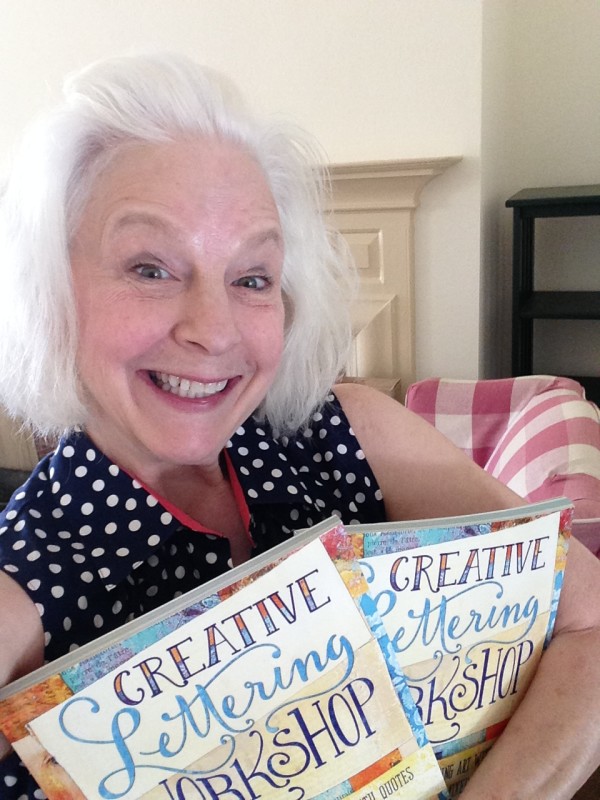 Advance copies of my next book, Creative Lettering Workshop: Combining Art with Quotes in Mixed Media, arrived yesterday.
I don't have to tell you how excited I am. Pre-order your copy now on Amazon and be sure to save your receipt – (Amazon does that for you, too) for a juicy art supply giveaway I'm doing to promote the book once it is released.
And more news on the homefront, I am moving next month. I shared the home search story with my newsletter subscribers, but thought you might enjoy it too. 
The search began in January, during a very, very cold winter. Over the months of our search, we saw several homes that I 
thought
 were "the one". We even wrote contracts on two others that I 
thought 
were the ones.
The thing is, in the other houses, I was willing to make-do to make it work.
I was so anxious to not spend another winter in a cold stone house that I was willing to settle. I was too much in my head and not paying attention to my heart. Thankfully, my husband has more patience, because eventually we did find the house we were meant to find. Read the full story about the divine intervention that lead us to this house, click HERE.
So what are you really listening to, your head or your heart?
John C. Maxwell, an internationally recognized leadership expert, speaker, and author who has sold over 16 million books, says:
Change is inevitable. Growth is optional.
This implies that the change comes first, from the outside, exterior to and out of your control. That is true – change happens. But in many instances, the change that occurs in your life is, not only in your control, but is a result of your thoughts, your actions and most of all, your feelings. Here's what I learned from our house search:  
Don't be attached to the outcome, hold fast to the feeling.
I would have sworn I was operating from my heart, until I chanced upon the right house. Making do, trying to change my Cinderella soul to fit into an ugly stepsister of a house, was a mistaken, misguided, mismatch.
I was too busy trying to hurry up the process to be true to my feelings, to wait for what I truly wanted and needed. Waiting, waiting and holding onto the feeling, is what sets us up for the divine to work her wonders on giving us, not what we may think we want, but exactly what we need.
Pay attention to how you operate. Don't lose your feelings inside of your head. Follow your heart and let life meet you on her own time. 
It gives me shivers of delight when you share your thoughts, problems and successes with me. I love listen, so please, share your comments below.

I'm going to the FREE Woman Unleashed Online Retreat and I want you to come too. It starts August 17and my session is on Tuesday, August 18th, so sign up now. Click HERE to join me! Once you sign up you have anytime access to all of the presentations for the duration of the retreat as they are delivered daily.
The end of summer is the perfect time for a reTREAT. We'll be doing Art + Journaling + Dance + Yoga + Mini Workshop sessions to reconnect with our intuition, creativity and passion. Session guides are led by artists, teachers, speakers, authors and healers from all over the world (including me). 
It is easy to come along. You don't need to pack a bag, travel halfway around the world, find a sitter for your kids (or pets), or even leave your home. You get a retreat that will fit around your schedule and best of all, it is my gift to you.
If you are working too hard and know you need a rest before you (crash &) burn (out), are feeling drained, or wanting to reconnect with your fun, playful side,
Reserve your spot in the retreat HERE.
P.S. I know there is a lot going on in your life. This is so worth it. Check it out now. 
See you there!