We all have a creative song inside waiting to be sung.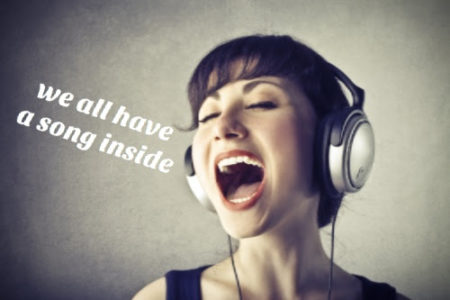 How to Be a Song…
Country music singer Brett Eldredge made the rounds of morning news and talk shows recently promoting his new Christmas album. There's a certain something about his presence and enthusiasm for the music that piqued my curiosity. Who is this guy?
Brett is a 30-yr old singer, songwriter, producer. I'm always in awe and ever envious of those who find their passion and hit their stride early. Envious but also extremely happy for them, because that's what we're all capable of – recognizing our gifts and making the most of them, no matter what our age. I chanced upon one of Brett's current hits and listened. The song perfectly expressed how I feel and inspired this note to you.
"Wanna Be That Song" has everything I want to say about love and about what I'm trying to be," he says. I know exactly what he means. I wanna be that song, too. It stirs in me the same desires that Wendell Berry's, How to Be a Poem does. It calls to mind Whitman's Song of Myself –
I CELEBRATE myself, and sing myself,
And what I assume you shall assume,
For every atom belonging to me as good belongs to you.
I wanna be that feel good song that makes you smile, makes your body move, brings back memories and reminds you that anything is possible. That song is an inner song that makes me want to do more, be more, create more, inspire and give more. It's the song that keeps my heart beating, the tune of being alive.
It's your song, too.
How to be a creative song?
It's the song that opens your heart, keeps the heart beating, shines the light, your much needed light that this world so needs.
I want to be that song for you. I want you to be that song, too. For yourself, for someone else, for the world.
30, 64 or 82 years old, it does not matter. Now is the time to sing your song.
I've known my creative passion for decades, yet I am the poster girl for Late Bloomers. But now? Now I feel, no I know, that at 64, I have finally hit my stride. It was slow going. I had to grow into it. The stars had to align. My eyes had to open. It's my time to shine. And it is certainly not too late.
I did not not give up. Never felt it was too late, a waste of my time, or an insignificant pursuit. And now? Now I am a creative force, full of potential and momentum. I wanna be that song for you. I want to enhance, expand and extend your creative force, your song. It is not too late to sing. Your song is significant and the world needs to hear you sing – with your paint, your papers, your fibers and fabric, your words. You are the melody maker. You are that song.