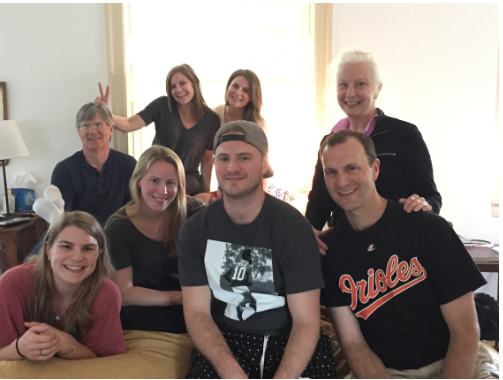 I've got something important to share with you as a result of our recent family slumber party. What better way to celebrate what would have been my Dad's 94th birthdaythan to have a slumber party with my six kids. The party was Sara's idea, but the sleep-over part was Brian's. (I am sure it's because he knew there would a bit of drinking going on.) This slumber party was the best way we knew how to celebrate my Dad. He liked nothing better than to know we were all together creating memories.
Family was the most important thing in my Dad's well-lived life, a value he passed on to us all. For both my mom and dad, being a family, a parent, was about creating a safe and loving place for us to learn, grow and spread our wings.
There are only two lasting bequests we can hope to give our children. One of these is roots, the other wings. Goethe
 
Goethe is one of my quote heroes, but there is something very important missing from that quote (forgive me Goethe!)
 
Wings are of no use to you unless you use them!
You may have forgotten, but you have experienced flight and the thrill of unfurled wings. Or maybe you do remember the beauty and joy of flying but are now so firmly rooted that you've forgotten how to get aloft or are too scared to take that initial leap. 
Do you need a mama bird to push you from the nest? Or some gentler form of encouragement? Or maybe you're still trying to figure out how to come out of your shell.
So many of our days are spent just trying to hold on, when in fact, we long to let go and take flight on our passions, our dreams and goals. How do you do that and still meet the demands of daily living?
The answer to that, the HOW, is the very thing I am working on right now. This mama bird wants to see you fly. It is taking some time though. So until these HOW's are ready to share, let's stay in touch. This blog will be our link, or better yet, sign up for my almost weekly emails over there to your right.⇒⇒⇒
One thing I know to be true is that we require constant reminders of what resides in our soul, of who we really are and what we really want. So stick with me. I promise to continue to remind, inspire and motivate you to use your wings.
Here's your first reminder: