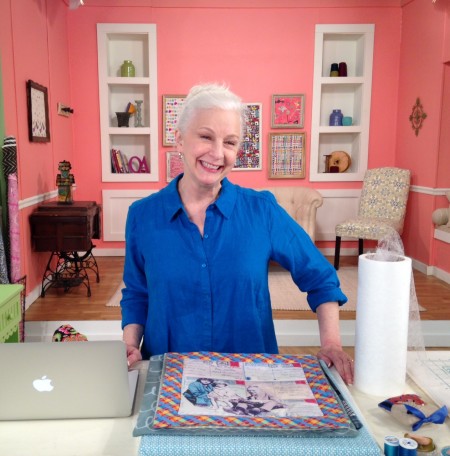 That's what it feels like here in the studio, a zoo. Do not feed the animals! Do not pass go. Do not stare at the monkey. 
I'm the monkey and I've been busy juggling way too many things. And it's not over yet. But I wanted to touch base with you because I feel disconnected. 
So here's what's been happening: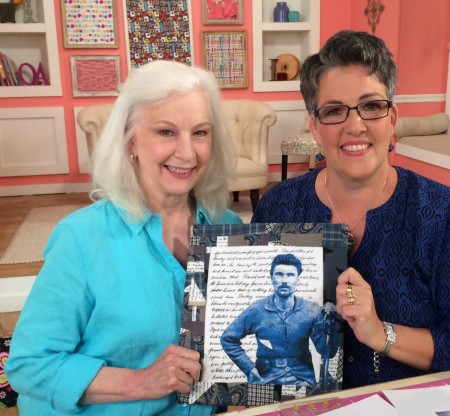 Preparation and a trip to Cleveland to film three segments Quilting Arts TV season 15 (airing next spring), plus a DVD on Modern Memory Quilts. Stay tuned for more info on that.
It was a blast and went extremely well, but I am walking much lighter now that the burden of it is over. Here I am with Susan Brubaker Knapp, the lovely new host of the show and a modern memory quilt I made of her great grandfather in the Civil War on a background of a letter his soon to be wife wrote to him – all done with the magic of my TAP Transfer Artist Paper!
Hard to believe Season 1 with host Pokey Bolton was way back in 2007. Here's a little flashback of me demoing my "old" matte medium transfer process.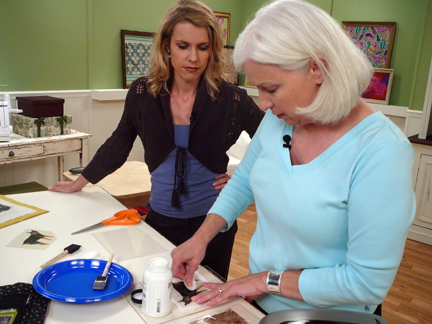 I continue to plug away at my next book, which is still in the hush-hush phase. I can't wait to share it with you though. The contributor art is arriving now and oh my! how gorgeous it is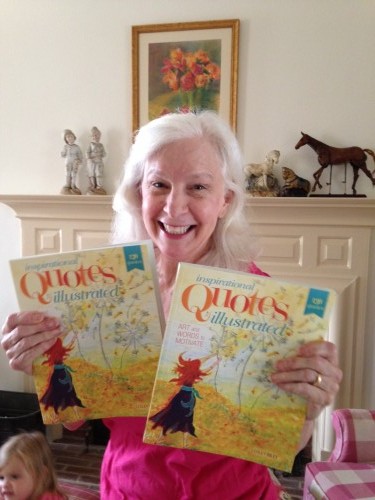 I received an advance copy of my most recent book, Inspirational Quotes Illustrated, and am over the moon with how it turned out. 30 new works of art and all new layout and design. North Light has given the book a whole new look and feel. It's available for pre-order now and is will be out by the end of October – PERFECT for holiday giving!
It's hard to believe it was just 11 short months ago that my self-published version became a runaway hit. Trust me, you'll want this one too.
THE PAGES ARE PERFORATED! So you can pull out and post your favorites for daily inspiration. Um, yes, you just might need two copies of the book.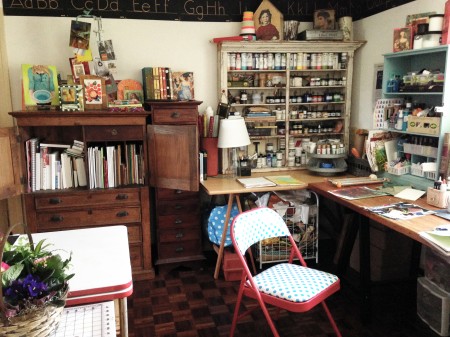 Here are two photos of my studio – staged and "real". The staged image is from the article, A Creative State of Mind, in the current issue of Studios magazine that just came out too.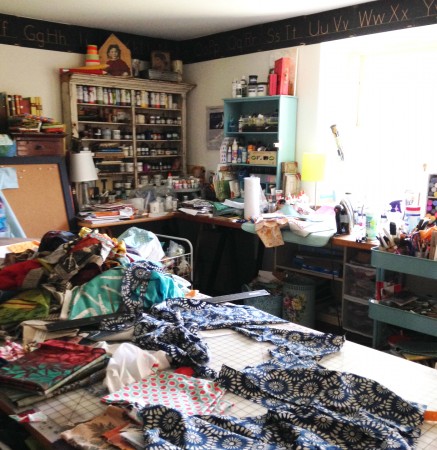 In the article I talk about my evolution from working on my bed to my current pinch-me studio here on the farm. Look for it at craft stores or B&N, or order it (or a
" target="_blank">HERE (paper version).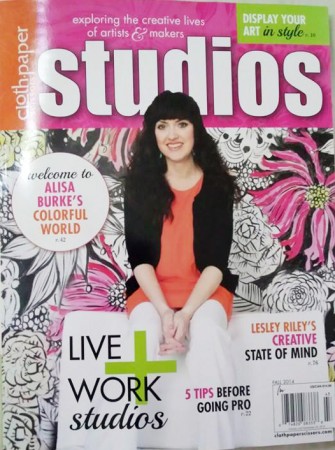 And if you're reading this you may notice that my WEBSITE has a whole new look. It went live just as all the other stuff took hold of my time and attention, so there's still some work to do on it. So please pardon the missing stuff.
One thing that I made sure was complete is the new Quotes Illustrated page in the new Mixed Media section of the site. There you will find all of the 22 runners-up for the new edition of Inspirational Quotes Illustrated. We only had space for 30 new illustrated quotes but these pieces were just too good to go unseen. So I officially present them now, with the artists' permission, for your viewing and inspirational pleasure. Be sure to click on them for bigger photos so you can read the quote that inspired the work and see all the juicy goodness of the art.