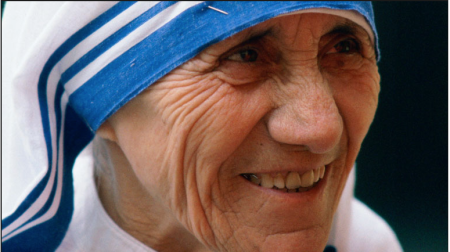 Mother Teresa was self centered.
Before you fire off any objections, please read on.
Mother Teresa was not was egotistical or selfish. (Did you notice there was a hyphen missing between self and centered?)  I am referring to the fact that Mother Teresa had a complete and full knowledge of her self – her soul, her essence of being. Her being was centered around and guided by her true self.
"Developing a self is an essential step towards transcending self and giving back. By knowing our selves and our soul's place in the world, we are able to locate ourselves in relationship to others and our natural world," says Bill Plotkin, author of Nature and the Human Soul: Cultivating Wholeness and Community in a Fragmented World.
In my video, The Secret of Art: Creating the Masterpiece of You, I shared my realization that: "You are the art you are trying to create. Your art is your soul made visible. It is in the making of your art that you become whole." Mother Teresa's art was taking care of the sick and poor. It was her centerpoint, her reason for being.
It was a vague calling, a true learn as you go experience, that led her to leave the convent and set out on her lifelong mission of care.
What you may not know is that all along, she had doubts. But her personal struggles never got in the way of finding and following her true self. Becoming, being and living the life you seek, the one that makes you whole, is never an easy road, but by comparison, it is by far the easiest, most exciting and most rewarding road to travel.
I have been traveling that road for quite some time now. Decades. I am ready to share what I have learned with you so that you, too, may travel toward becoming self centered, whole. I am no Mother Teresa, yet I am committed to following my calling. It is who I am. I can't not do it. I need to share it with you in order to become whole.
I am still in the delicate planning stages. Something this important can't be rushed. But these three things I know for sure: 
I will be doing it through a new model for learning, one in which we will both learn, grow and hold each other accountable

What we create together will change lives
I am headed to Amsterdam on May 6th, where 20 like-minded women will take actions towards becoming whole at my Red Thread Retreat, Seeds of the Soul: Creating from Your Core. (There's one spot left, is it for you?) I'll be back home on May 20th after a soul-inspired pilgrim's journey to Scotland. After that, all my attention will be directed to you and where we go from here.