The Story Behind Quotes Illustrated and This Gallery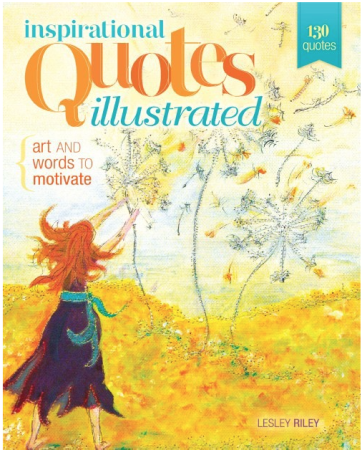 My self-published book, Quotes Illustrated, was the culmination of a dream, a combination of the two things that I carry in my heart and soul as guiding lights – quotes and art.
The book is my attempt at the ultimate in inspiration – words and works of art that will move you to smile, to feel happy and think positive.
Most of all, I hope to inspire you to take action on your dreams. More importantly, the book was the result of the friendship and community I have found by taking action on my dreams and following my passion.
It would not be anywhere near as expressive and rich without the many artists who responded to my call for art. My seed of an idea became a rich community garden of delight thanks to their contributions. This book would not exist without their time and talent.
The original Quotes Illustration is now out of print and a collectors item. The NEW edition, entitled Inspirational Quotes Illustrated, is a result of the magic that Goethe said would appear when you taking action. My original self-published edition, entitled Quotes Illustrated, became a #1 bestseller on Amazon in it's one short month of availability.
Within a week of its publication, Tonia Jenny of North Light Publishing asked me if North Light could acquire the book. It has always been my goal to reach and inspire more people, and a mass market publisher can make that happen. So I said a holy "YES!"
30 new, wonderful works are included in the new, Inspirational Quotes Illustrated book (pre-order now!), yet there were many more submitted and I couldn't bear for them to not be seen and celebrated. The artists you see here have generously given their permission to be included in this Quotes Illustrated gallery. Never miss a chance to be inspired, right?
Sit back, enjoy and be inspired. Click on the image to see a larger version.