Expressive Abstraction in Oil & Cold Wax

Serena Barton

November 2-6, 2017


Knoxville, MD
SOLD OUT

You'll have a great time discovering the magic of oil and cold wax medium in this three day class. Making art with oil and cold wax involves a lot of experimentation and a willingness to set out without knowing where you're going to end up!
Use your favorite shapes, colors, and marks to create stunning and atmospheric pieces that express your deepest self. You'll learn to prepare your panels with gesso, plaster, and Ceracolors. You'll use a wide variety of texture tools like kitchen utensils, coffee sleeves, squeegees, and found objects. You'll learn to add collage, oil bar marks, and to incise and scrape back. You'll explore composition and color, collage and other mixed media elements. Learn how to use solvents to add unusual and unexpected effects.
We'll work on a bunch of pieces at a time, so that you don't get bored watching paint dry. You'll learn more about your creative process and you'll leave class eager to experiment more with this delicious medium. You'll also leave with a lot of amazing and beautiful pieces!
Materials Fee: 60.00 includes oil paints to share, cold wax medium, texture tools to share, flat birch panels, oil bars, pastels, collage elements, Venetian plaster, Ceracolors to share, painting knives to use, and more – everything you need to complete your paintings.
In keeping with the Red Thread Retreat mission, Serena loves to provide an atmosphere where you can discover or rekindle your creative abilities. She provides lots of individual attention and feedback as desired. Her goal is to help you learn, experiment, and have fun!
Serena lives in Portland, OR USA where she offers creativity and art workshops, groups, and individual art coaching. She exhibits and sells her work in galleries. as well as online. She teaches at national art retreats and in various cities Her articles and work have appeared in many books and magazines in the U.S. She is the author of the books, Wabi-Sabi Art Workshop and, Wabi-Sabi Painting with Cold Wax, published by North Light.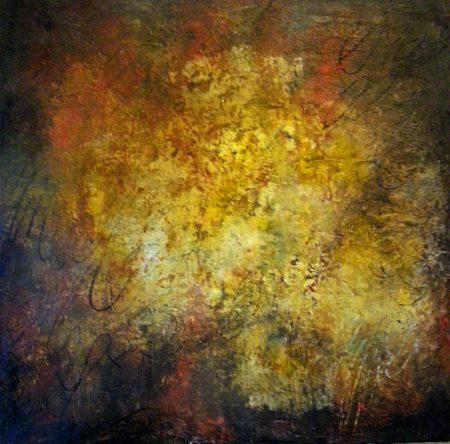 The DETAILS
Location: Blue Mountain Retreat Center is located steps away from the Potomac and Shenandoah Rivers, at the junction of Maryland, Virginia and West Virginia. Walk along the river path and cross the bridge to historic Harpers Ferry. Enjoy the clean mountain air just an hour away from three major airports.
Dates: November 2-6, 2017
Arrive Thursday,November 2nd in time for dinner.
Class on Friday, Saturday & Sunday, November 3-5 (1 hr lunch break)
Depart Monday morning, November 6, 2017.
All rooms are offered on a first come basis with a $150 deposit due at registration. The remainder will be billed with a one or two payment option and is due within 30 days of your registration. (If registering after May 1, 2017 (space permitting) payment will be due in full.
As always, the retreat cost is all inclusive except for the $60 kit fee due to instructor at the beginning of class. Your kit includes everything necessary to complete your paintings and to experiment with.
More FAQ & Answers
Your Red Thread Retreat fee includes:
4 nights lodging
Dinner Thursday through Sunday
Lunch Friday, Saturday and Sunday
Breakfast Friday through Monday
3 classroom days – 9 AM – 4 PM (with a lunch break of course)
24-hour art room access

Registration & Fee
Triple/Quad Room – $820
Double Room – $880
Single Room – $970
Cancellation Policy – Please read!
Cancellation by or before April 1, 2017 = Full refund less a $150 cancellation and processing fee.
Cancellation April 2, 2016-August 1, 2017, we will try to fill your spot and provide a full refund (less your $150 deposit).
There will be no refunds after August 2, 2017, but if you or I find someone to take your spot, you will receive a full refund less the $150 deposit