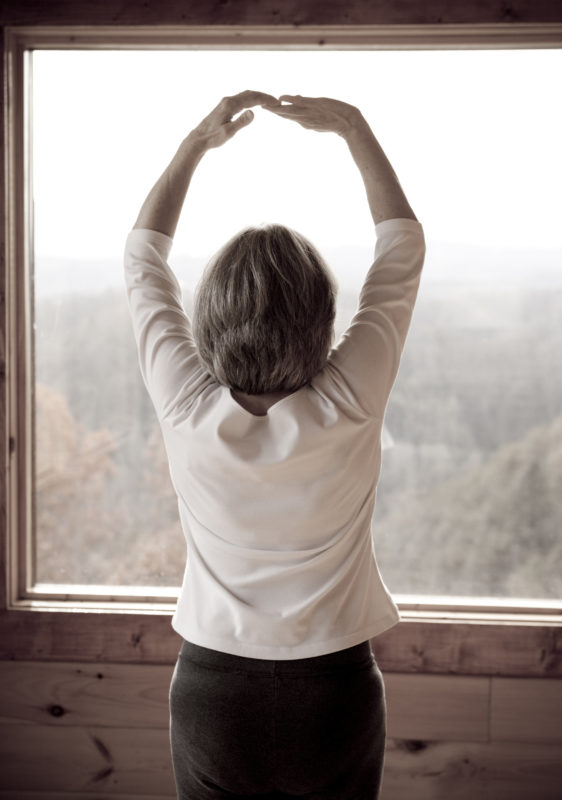 Did you know that a tight body can adversely affect and be reflected in your work? Brush strokes appear hesitant and controlled. Stitching looks tight and tense. Your writing may be stilted and lacking flow. Maybe your body is so tight there is no flow at all.
May I recommend 3 stretches that will improve your art by relaxing your muscles in order to alleviate tight art making?
These are the ones I do on each and every break from my work, or when I feel my shoulders tightening. They are gentle relaxation stretches, not intended for bodybuilding or for anyone with any shoulder or upper body injuries or impairment. As always, follow your own body's signals and your common sense.
Oh! And the third stretch that will improve your art may surprise you.
Stretch #1
This stretch reverses the forward strain on your back that you get from art making or sewing.
Feet shoulder width apart, balanced and firmly on the ground.
Clasp your hands behind your back.
Bend forward, raising your clasped hands and arms upward as high as you can go, aiming for the sky or ceiling, and feeling a definite pull in the trapezius muscles at the base of your neck, between your scapula, and the triceps muscles of your arm.
Hold the stretch for a count of ten. Repeat until you feel relief in your muscles.
Stretch #2
This stretch will open up your pectoral muscles on the front of your chest, under the collarbone. They can shorten and tighten from the repeated front activity of art making and sewing.
Stand up, away from the art or sewing table.
Feet shoulder width apart, balanced and firmly on the ground.
Open your arms wide at shoulder level, palms open and up.
Gently pull your arms back, feeling a widening in your chest. Hold for a count of 10. Repeat.
Stretch #3
This stretch is for your creative muscle. It facilitates growth and confidence in your art making.
Try a new tool, technique or take on an old theme.
Submit your work to a challenge, swap or show.
Start that piece that scares you.
Work through the piece that you believe is a lost cause.
Volunteer to teach someone what you know.
Whether good for the body, or good for the mind and spirit, these stretches that will improve your art will give you the power and confidence to make more and better art. Relax your body and your mind into the art flow that is waiting for you to open the floodgates.
Need more ways to stretch yourself into the kind of artist you want to be? I invite you to check out my upcoming class, Closing the Creativity Gap. It may be just the stretch you need to get you back in shape art-wise.
Closing the Creativity Gap is the result of years of study and dissection of the creative process and the obstacles life throws between us and our art. Here's a link to the class page where you can get all the details and register – Closing the Creativity Gap Program .
Registration for the Closing the Creativity Gap Program closes May 5, 2017. Let me know if you have any questions. I am happy to help you decide if it's right for you. Just reply to this message.