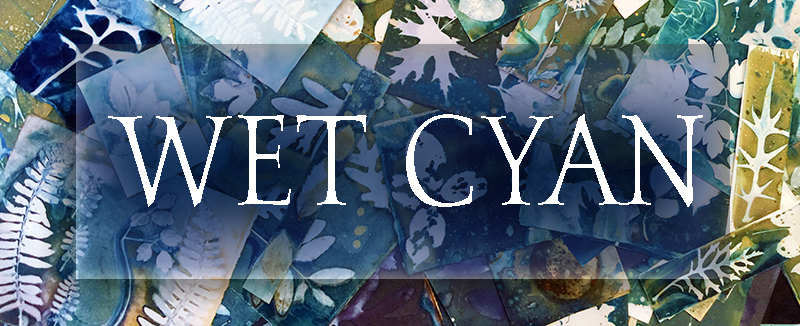 Serendipity is my middle name. I would rather create 1000 random, happy accidents than one piece with a perfectly planned and achieved outcome. It is very liberating to make something that is, for the most part, out of your control. It releases the angst that can come with artmaking and kicks your inner critic's butt. Plus the absolute simplicity of the nearly fail-safe technique and chemistry almost guarantees that you will make a successful print within a short time
Now of course there are some methods, means and materials that you need to know about to get the result that you lust over. That's where I come in. Presenting… the
Wet Cyan – Printing Sweet Treats – Retreat
SOLD OUT!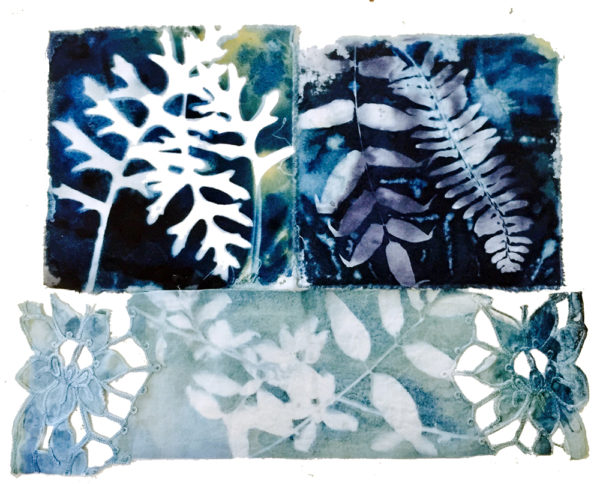 In this 2-day, 2-night workshop, we will start with the basics of cyanotype printing and quickly move on to the many variables that make wet-cyanotype printing so magically delicious. You will learn all my methods, tips, tricks and best practices regarding: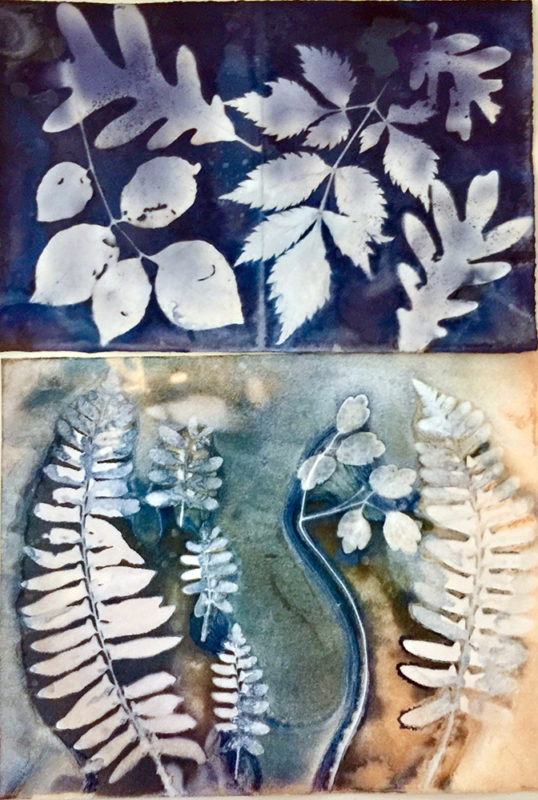 paper
fabric
plants
water
water application
workspace setup
contact printing
alternative materials
solution mixing & application
additives that change the chemistry & color
timing & temperature
troubleshooting results
what not to do
While our prints are cooking in the sun, we will explore and play with printing plants with GOLDEN OPEN paints and Gelli® plates, as well as GOLDEN Paints, Mediums and stencils to create faux wet-cyan.
You will leave the retreat on Monday morning with a library of possibilities and an encyclopedia of techniques.
Kit & Materials Fee = $60
I will source all materials for you except leaves, plants and other flat objects for printing. Your kit includes:

cyanotype solution & application container
measuring glass
application brush
a variety of papers & fabric for printing
glass and plastic contact plates
paintbrushes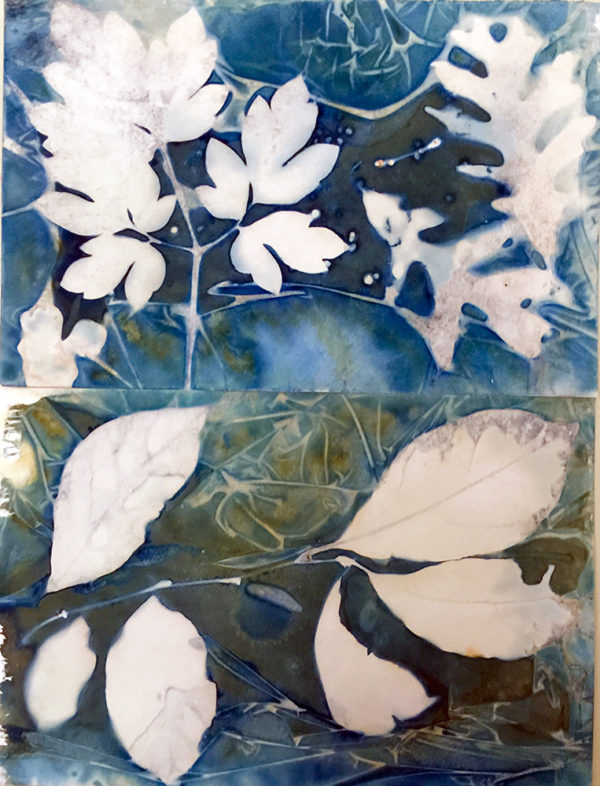 In addition, I will provide the following for class use:
GOLDEN® Paint & mediums
Gelli® plates & brayers
additives
development solutions
spray bottles
paper towels
freezer paper
latex
and more.
You bring:
leaves & other flat items for printing
apron
notebook
your sweet self
The DETAILS
Location: Blue Mountain Retreat Center is located steps away from the Potomac and Shenandoah Rivers, at the junction of Maryland, Virginia and West Virginia. Walk along the river path and cross the bridge to historic Harpers Ferry. Enjoy the clean mountain air just an hour away from three major airports.
Dates: May 11-14, 2018
Arrive Friday, May 11th in time for dinner. Evening paper & fabric prep.
Class on Saturday & Sunday, May 12 & 13, from 9-4 with 1 hour lunch break.
Depart Monday morning, May 14th.
All rooms are offered on a first come basis with a $250 deposit due at registration. The remaining balance will be due within 30 days of your registration. (If registering after February 15, 2018 (space permitting) payment will be due in full.
As always, the retreat cost is all inclusive except for the $60 kit fee due to instructor at the beginning of class. Your kit includes everything necessary to create several prints and to experiment with.
More FAQ & Answers
(Massage appointments available upon arrival. $75/1 hour session, paid directly to retreat center owner, Beth Ehrhardt LCMT, a licensed massage therapist, and an excellent one at that!)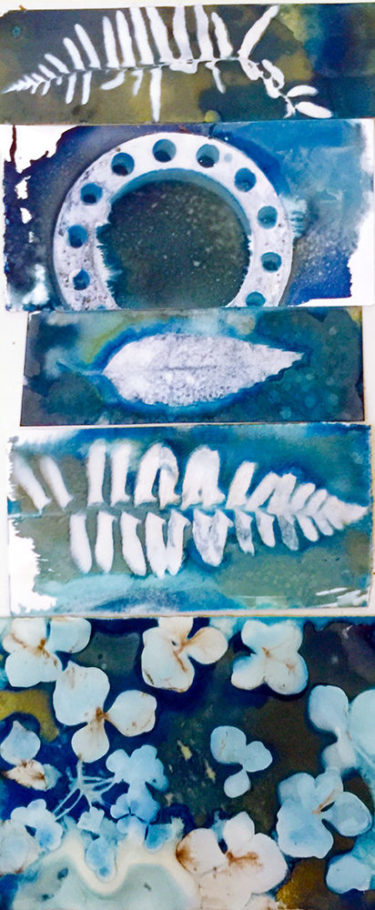 Your Red Thread Retreat fee includes:
3 nights lodging
Dinner Friday through Sunday
Lunch Saturday and Sunday
Breakfast Saturday through Monday
2classroom days – 9 AM – 4 PM (with a lunch break of course)
24-hour art room access

Registration Options & Fees
Triple Room – $605 – Sold Out!
Triple Room with en-suite bath – $705 – Sold Out!
Double Room – $655 – Sold Out!
Single Room – $755 Sold Out!
Cancellation Policy – Please read!
Cancellation by or before February 15, 2018 = Full refund less a $150 cancellation and processing fee.
Cancellation February 16-April 15, 2018, we will try to fill your spot and provide a full refund (less a $150 cancellation fee).
There will be no refunds after April 15, 2018, but if you or I do find someone to take your spot, you will receive a full refund less a $150 cancellation fee.

REGISTER HERE NOW
with a $250 deposit
(dropdown menu)