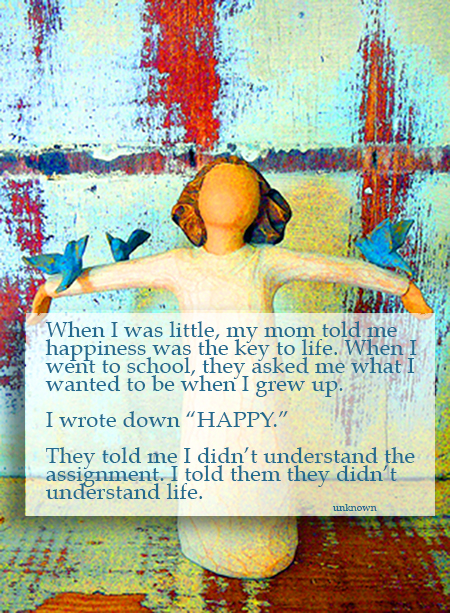 We all have stories. The lovely, magical even, thing about life is that we get to control how our stories goes. And even better, we get to be the hero of our own stories.
Or we can be the victim, the damsel in distress, the unlucky sidekick or the one standing on the sidelines. How your story turns out is determined every moment of every day. Even this one right now, as you read my words. 
I write words that I glean from my own story, collecting the pieces, bit by bit. I write them because I do not want one single person to go through life not taking full advantage of their ability and capacity to be happy. I write these words because it wasn't until the age of 48 that I realized I almost missed out on finding true happiness and that thought scared me enough to become an advocate for finding, creating and living happiness.
I have permission to share one of my readers (true) story with you. She agreed because she really gets what I am saying and hopes that by sharing how she rediscovered happiness, she may make a difference in someone's life, too. 
Hi Lesley,

Your coaching has broken the cycle. I have started going into my studio every day for over a week.  The first day I was shaking and anxious. I'd forgotten where everything was and my hands weren't doing what my brain expected.  Now I'm feeling a happiness that I haven't had in a long time.

 

My excuses have been cancer surgery, going partially blind in both eyes, loosing my son in a car wreck, fibromyalgia pain and fatigue. I'm 67 yrs. old & my husband is retired and home with me 24/7.   All good excuses not to do art. Right?

 

But going to my studio and just doing collages has made me happy again. Now my mind is thinking of designs, colors, found objects & accomplishments.  The negative "poor me" self talk is gone.  You are my mentor, inspiration and friend. Blessing to you.

 

Thanks for being there.

lee
I should mention that Lee is not a coaching client. She simply took action on my words and began rewriting her story – a very tough story to re-write, wouldn't you say? There's that key word, the thing that precedes all change – action.
I still have time-creating techniques and many, many more life-changing enlightening words of wisdom to share with you, but they won't mean a dang thang if you don't act on them. Are you with me on this, because I need your help.
I've been working on something that until today
was more of a puzzle than a plan.  I now have the missing piece. I need to know if you'll help me though, because it's something I can't do alone. I'll have more details soon, but right now, I need to know if you're willing to take action so that together, we can break the cycle. Please leave a comment or
email me
. Knowing that you, like Lee, are there, will make all the difference.